DFG-Graduiertenkolleg: π³ Parameter Identification – Analysis, Algorithms, Applications
Working Group:
WG Industrial Mathematics
Leadership:
Prof. Dr. Dr. h.c. Peter Maaß ((0421) 218-63801, E-Mail: pmaass@math.uni-bremen.de )
Processor:
Dr. Tobias Kluth ((0421) 218-63817, E-Mail: tkluth@math.uni-bremen.de)
Sabine Eifeld (E-Mail: eifeld@math.uni-bremen.de )
Funding:
DFG
Project partner:
Prof. Dr. Armin Lechleiter, Universität Bremen
Prof. Dr. Werner Brannath, Kompetenzzentrum für Klinische Studien Bremen
Prof. Dr. Christof Büskens, Universität Bremen
Prof. Dr. Alfred Schmidt, Universität Bremen
Prof. Dr. Emily King, Universität Bremen
Prof. Dr. Jens Rademacher, Universität Bremen
Prof. Dr. Dmitry Feichtner-Kozlov, Universität Bremen
Dr. Iwona Piotrowska-Kurczewski, Universität Bremen
Time period:
01.10.2016 - 31.03.2021
Website:
https://www.uni-bremen.de/rtg-pi3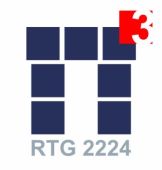 The new Research Training Group "Parameter Identification – Analysis, Algorithms, Applications", funded by the German Science Foundation (DFG), is hosted by the Center for Industrial Mathematics since October 2016. Mathematicians from algebra/topology, from applied analysis and from statistics are also involved. Furthermore, five associated scientists from the faculties Physics/Electrical Engineering, Biology/Chemistry and Production Engineering plus the European Molecular Biology Lab in Heidelberg are integrated.
The task of retrieving biological, physical, or technical parameters from measured data is as universal as the quest to determine system parameters for optimisation/controlling complex processes.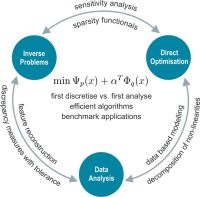 Accordingly, parameter identification is at the core of multiple applications in all fields of natural sciences, engineering, life sciences, and industrial applications. The demand for tackling ever more complex models in terms of non-linearity, sensitivity, coupling of systems or for including specific expert information as side constraints, provides numerous challenges in mathematical modelling and for designing, analysing, and implementing appropriate algorithms.

The RTG is focused on deterministic parameter identification tasks on the interface between applied mathematics and scientific computing that are formulated as functional minimisation problems. The different scientific approaches considered share modelling characteristics as well as mathematical challenges and they naturally meet when it comes to designing efficient algorithms.

The RTG-team with the PhD students in the center focuses on the development of new mathematical methods for parameter identification tasks and its application to real industrial applications. The research program is split into three research areas: inverse problems, direct optimization and mathematical data analysis; each equipped with one industrial benchmark application. We take great care to equip the PhD students of the RTG with the necessary mathematical competence and to enhance scientific independence. The mathematical qualification concept includes compact courses and reading courses on advanced research topics. Supervision is based on separately defined tasks for main supervisor, co-advisors, and PhD advisory committee. Research and training in study groups consisting of four to six PhD students is a further characteristic feature of π3.
Publications