SCiLS (Scientific Computing in Life Sciences)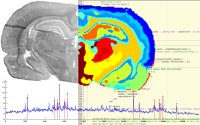 SCiLS
SCiLS is located in Bremen, Germany, and was founded in 2010 as a spin-off of ZeTeM. SCiLS is a research and development oriented company, composed of co-workers from statistics, computer science, and biochemistry.
One building block of SCiLS is the SCiLS GmbH who develops and markets the software SCiLS Lab for analysis and interpretation of MALDI-imaging mass spectrometry data. The SCiLS Lab software is used by medical experts at University Medical Center Hamburg-Eppendorf, Jena University Hospital, and Helmholtz Center Munich, for characterization of new biomarkers and for finding new therapies in cancer research.
The second building block of SCiLS is the Steinbeis Innovation Center SCiLS Research who carries out projects closely related to research. SCiLS Research takes active part in many research projects on both national and European scale, where it performs either project-specific Research & Development or 2D/3D MALDI-imaging data acquisition.
The third building block of SCiLS is SCiLS Analytical Services who provides acquisition of MALDI-imaging data as a service. SCiLS Analytical Services offers acquisition of 2D and 3D MALDI-imaging data acquisition with an autoflex speed™ LRF MALDI-TOF (Bruker Daltonik, Bremen, Germany, 2011) imaging mass spectrometer.