Dynamics of Automatic Control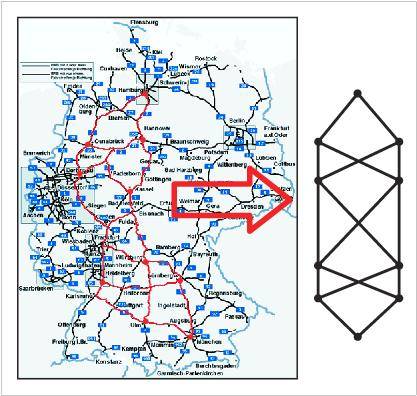 Der Sonderforschungsbereich SFB 637 befindet sich derzeit in der zweiten Förderphase. Er umfasst 16 Teil- und vier Transferprojekte, in denen Wissenschaftler aus vier Fachbereichen der Universität Bremen, der Jacobs University Bremen und der University of Wisconsin-Madison interdisziplinär zusammenarbeiten. Im Teilprojekt A5 untersucht die Arbeitsgruppe Mathematische Modellierung komplexer Systeme gemeinsam mit Wissenschaftlern des Bremer Instituts für Produktion und Logistik die Dynamik selbststeuernder logistischer Prozesse.
Die dynamische und strukturelle Komplexität logistischer Netzwerke verhindert zunehmend die Bereitstellung aller entscheidungsrelevanten Informationen für eine zentrale Planungs- und Steuerungsinstanz und erfordert deshalb adaptive logistische Prozesse mit der Fähigkeit zur Selbststeuerung. Mit Selbststeuerung wird die dezentrale Koordination autonomer logistischer Objekte in einer heterarchischen Organisationsstruktur bezeichnet.
In der zweiten SFB-Förderphase wurde der Betrachtungsgegenstand des Teilprojektes A5 von Produktionssystemen auf Produktionsnetze erweitert. Solche Netze bestehen aus geografisch verteilten Produktionsstandorten, die durch Transportwege verbunden sind. Neben der Betrachtung der zwei unterschiedlichen Ebenen (Produktionsstandort und -netz) werden Transportzeiten berücksichtigt.
Mithilfe der im Teilprojekt A5 entwickelten Selbststeuerungsstrategien steuern die logistischen Objekte, wie z.B. Material oder Aufträge, selbstständig durch ein Netzwerk. Dazu werden unter anderem die Auswirkungen der Anwendung von unterschiedlichen Selbststeuerungsstrategien hinsichtlich der Leistungsfähigkeit, Robustheit gegenüber Störungen und Stabilität analysiert. Beispielsweise wurde in einem Szenario eines Produktionsnetzes nachgewiesen, dass durch die Anwendung von Selbststeuerung die Lagerbestände der einzelnen Standorte unter schwankenden Material- bzw. Auftragseingängen harmonisiert werden, wie in der zweiten Abbildung zu erkennen ist.
Generelle Ziele des SFB-Teilprojektes sind die Modellierung von Produktionsnetzen, die Entwicklung und Integration unterschiedlicher Selbststeuerungsstrategien sowie die Analyse der Anwendung dieser Strategien und deren Dynamik in Produktionsnetzen. Es werden Modelle untersucht, die eine gute Approximation an das Systemverhalten liefern, um ein Werkzeug zur Simulation und konkreten Vorhersage der Dynamik von Transportprozessen zur Verfügung zu stellen, und es werden qualitative Aussagen über das Verhalten selbstgesteuerter Transportprozesse gewonnen, die ein allgemeines Verständnis der zu erwartenden Dynamik vermitteln.
Mathematisch werden Produktionsnetze mit Differentialgleichungssystemen für die abstrakte Abbildung der betrachteten Probleme modelliert. Transportzeiten werden durch die Verwendung von "Time-delays" berücksichtigt. Auf Basis dieser Modelle wurden Theoreme formuliert und bewiesen, die die Stabilität eines Netzwerkes garantieren, unter der Voraussetzung der Existenz von Lyapunov-Funktionen der einzelnen Teilsysteme und einer im Teilprojekt entwickelten "Small-gain"-Bedingung. Hierbei wurden die Stabilitätseigenschaften "Input-to-State-Stability" (ISS), "Local ISS" (LISS) sowie "Input-to-State-Dynamical-Stability" (ISDS) verwendet und jeweils Lyapunov-Funktionen für die entsprechenden Gesamtnetzwerke konstruiert. Zusätzlich sind damit quantitative Aussagen über das Produktionsnetzwerk möglich. Die Ergebnisse fließen in ingenieurswissenschaftliche Simulationsmodelle ein, wobei Synergieeffekte wechselseitig genutzt werden. Beispielsweise wurde mithilfe dieses dualen Vorgehens ein Schema zur Identifizierung von Stabilitätsregionen entwickelt, das den Vorteil einer enormen Zeitersparnis bei der Identifizierung im Vergleich mit einem rein simulativen Vorgehen aufweist.
Publikationen