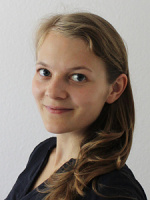 Laura Sommer
Ehemalige Mitarbeiterin der
WG Optimization and Optimal Control
Projects
Courses (Selection)
Übungen Numerik 2 (Sommersemester 2018)
Übungen Numerik 1 (Wintersemester 2017/2018)
Übungen Optimale Regelung und Echtzeitoptimierung (Sommersemester 2017)
Publications (Selection)
M. Rick, J. Clemens, L. Sommer, A. Folkers, K. Schill, C. Büskens.
Autonomous Driving Based on Nonlinear Model Predictive Control and Multi-Sensor Fusion.
10th IFAC Symposium on Intelligent Autonomous Vehicles (IAV 2019), 03.07.-05.07.2019.

L. Sommer, M. Rick, A. Folkers, C. Büskens.
AO-Car: Transfer of Space Technology to Autonomous Driving with the use of WORHP.
7th International Conference on Astrodynamics Tools and Techniques, 2018.

A. Cobus, M. Rick, L. Sommer, N. Backfisch, A. Probst, M. Echim, C. Büskens.
Optimal Control in Autonomous Driving.
88th GAMM Annual Meeting of the international Association of Applied Mathematics and Mechanics (GAMM).
Proc. Appl. Math. Mech., 17(1):783-784, 2017.