DFG-SPP 1480: Thermomechanical distortion in drilling and milling complex components

The AG Numerik PDE and the AG Technomathematik collaborate within the DFG Priority Program SPP1480 "Modelling, Simulation and Compensation of Thermal Effects for Complex Machining Processes". Togther with engineers from the Institute of Production Engineering and Machine Tools in Hanover they work on the developement of a model able to precisely predict the thermoelastic deformations appearing during cutting processes in complex structural components and their related geometric failures.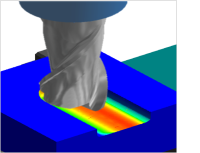 Dexelabtrag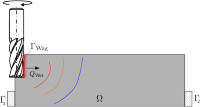 Removal Simulation
The simulation includes a model for the geometric changes of the components and the time dependent contacts between work piece and cutting tool. Additionally, a finite element model for the simulation of the thermal conduction and the component disortion is combined. The model should be valid for both the continuous (drilling) and the discontinuous (milling) cutting processes. Along wit the thermomechanical deformation, a special attention is given to the metal removal process.

IFW logo
Website of the Priority Program SPP 1480:
http://www.cutsim.de/en/spp/index.html
Publications