About ZeTeM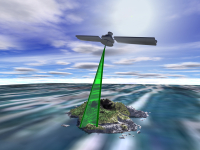 Earth observation with satellites
The Center for Industrial Mathematics (ZeTeM) at the University of Bremen deals with the formulation and solution of complex problems from the natural sciences and engineering using modern methods of applied mathematics. We undertake the complete problem-solving process: from modelling the original problem (in close interdisciplinary collaboration with users) through the mathematical analysis of the model to the development of software and simulation.
Director of ZeTeM is Prof. Dr. Andreas Rademacher .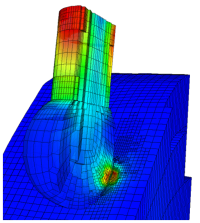 Grinding tool in contact with the workpiece
By conducting joint research and industrial projects with users from business and science, ZeTeM transfers the latest mathematical methods into the companies and institutes and thus facilitates their use in applications. To this end, ZeTeM contacts those who use mathematics in companies, research institutes and universities. Our particular objective is to make modern mathematical methods for problem solving available to medium-sized companies as well.
The second priority of the Center of Industrial Mathematics is the application-oriented education of students in the industrial mathematics and mathematics courses. The students are introduced to modern mathematical methods continuously and at an early stage, so that they can apply them to technical and scientific problems. Students already collaborate on ZeTeM's research and industrial projects during their course,.