Soft skills workshops
Basic research and soft skills of the PhD students will be developed, first of all, through the daily research work; collecting their own experiences is most important. This process will be supported by regular measures of the RTG. Special emphasis will be given to develop leadership abilities of the PhD students.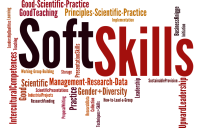 A series of soft skills workshops of (typically) one day will be organised in collaboration with
BYRD
, the graduate center of the University of Bremen. Over three years, every PhD student must attend (at least) six workshops.
Mandatory workshop topics are:
Principles of good scientific practice
Intercultural competences, dealing with gender and diversity
More topics for soft skills training workshops may be chosen from:
Upward leadership
Collection, storage, editing and sustainable provision of research data
How to build and lead a working group
Research funding and proposal writing
Techniques and skills for scientific presentations
Initiation and implementation of research projects with industry
Good teaching: "The scholarship of teaching and learning"
These qualification aims are the basis for designing our soft skills programme. To this end, the following soft skills courses have been held in the last years:
Getting started, Dr. Jan Stamm, December 2016
Kickoff Brainstorming Meeting - Female researcher, Dr. Monika Clausen, February 2017
Good Scientific Practice for Doctoral Researcher, Dr. Christian Dumpitak, mandatory, May 2017
Scientific Writing Short Course, Dr. Rebecca H. Rendle-Buehring, November 2017
Career Coaching for Women in Science "Navigare", Dr. Monika Clausen, October/December 2017
Gender and intercultural training, Ulrike Schumann-Stöckert, mandatory, January/February 2018
Assessment Centre, Kienbaum, October 2018
Career paths between Academia and Economy, Dr. Christine Issa, November 2018
Getting started and gender/intercultural training, Ulrike Schumann-Stöckert, November 2019
Gender sensitive leadership, Dr. Lisa Horvath (for PIs), February 2020
Good Scientific Practice for Doctoral Researcher, Dr. Christian Dumpitak, June 2020
Project, time and self-management in the doctoral studies, Dr. Nadine Binder, scheduled fall/winter 2020
Further general training sessions throughout three years will be organised, in particular by the PhD students themselves, depending on the needs and choices of the group.