Introduction
The 4th workshop on Optimisation in Space Engineering (OSE) is organised by the European Space Agency and the University of Bremen.
The goal of the OSE initiative is to provide a forum for space companies, universities, research institutes and organisations to discuss recent advances in space technology and further research in the area of optimisation in space engineering.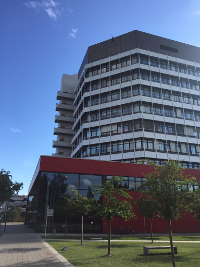 Conference location MZH
The OSE4 includes two events:
On Monday, March 27th, tutorials will be given for the ESA NLP solver WORHP and the optimal control library TransWORHP. This day addresses especially to PhD students and active researchers. However, anyone is invited to participate.

From Tuesday to Thursday, March 28th to March 30th, the workshop including presentations of the participants and round table discussions take place. On Wednesday afternoon guided tours to selected space related institutes at the Technologiepark are offered (DLR, ZARM, DFKI).

The venue for the OSE4 is the campus of University of Bremen.