Venue
The autumn school takes place at the BITZ, Fahrenheitstr. 1, 28359 Bremen.
Scientific sessions (lectures/talks) in BITZ, room K4
Coffee breaks in BITZ, room K2/K3
Poster session in BITZ, room K2/K3
Universität Bremen
Building BITZ (Bremer Innovations- und Technikzentrum)
Fahrenheitstr. 1
28359 Bremen
Map
Arriving by car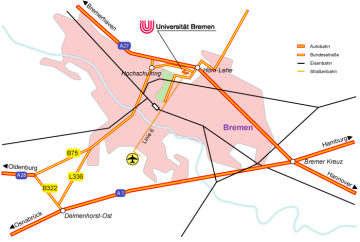 Access by car
From the autobahn A1 change at Bremer Kreuz to the A27, in the direction of Cuxhaven/Bremerhaven.
Take exit number 19 Horn-Lehe/Universität, follow the direction of Centrum/Universität.
At the second intersection turn right into Universitätsallee (University Alley).
At the next traffic light turn right again into the Enrique-Schmidt-Straße. Use the parking lot there. The parking fee is 1 Euro per day.
Arriving by plane or by train
From the airport or from the central station, take the tram line number 6 in the direction of Universität. This takes you directly to the university campus. Get off at the stop Universität/Zentralbereich.
You can find taxi stands both outside of the airport and the central station.
Information about the public transport system
When using the tram, you purchase your ticket at a ticket vending machine inside the tram. The ticket machines provide instructions in English. The machine in the front part of the tram will accept cash (coins or banknotes up to 10€).
When using the bus, you purchase your ticket from the bus driver.
In both cases, you have to purchase an adult single ticket (
EinzelTicket Erwachsene
) for 2.80€.
If you prefer a
daily pass
or a
weekly pass
then you should go to a BSAG-Center (in front of the central station) in order to purchase it. Both daily and weekly passes allow you to use all the trams and buses, except for specific night-lines. For more information, visit
https://www.bsag.de/en/information.html
. Even if you are not staying the whole week in Bremen, you may take into consideration buying a weekly pass, since it could be cheaper than buying daily passes or single tickets ones.
Here
you can find an overview of the tram and bus system in the city of Bremen.