Welcome to the Homepage of the Research Group
Dynamical Systems and Geometry
6th Bremen Winter School on Dynamical systems and turbulence
12th - 16th March 2018
The Winter School is mainly sponsored by the Collaborative Research Centre
TRR 181 "Energy Transfer in Atmosphere and Ocean" funded by DFG.
For further information please go to www.wis-turb.math.uni-bremen.de
---
Conference on Thermodynamic Formalism
10th - 12th July 2017
We are hosting a 3-day conference "Thermodynamic formalism - Applications to geometry and number theory" in memory of Prof. Dr. B. O. Stratmann (1957-2015).
Invited speakers are K. Baranski, K. Dajani, K. Falk, J. Fraser, C. Kraaikamp, M. Lapidus, D. Meyer, E. Mihailescu, J. Parker, S. Patterson, A. Pohl, M. Roy, J. Schmeling, M. Stadlbauer, S. Velani, S. Winter, M. Zähle, A. Zdunik.
For further information please visit the conference website.
---
Book Publication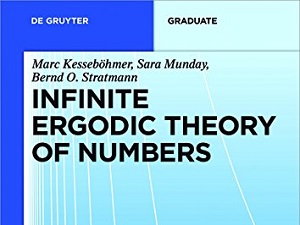 Keßeböhmer, Marc; Munday, Sara; Stratmann, Bernd.
Infinite Ergodic Theory of Numbers.
De Gruyter Textbook
, 191 pages.
ISBN:
978-3-11-043942-7
.