Welcome to the Homepage of the Research Group
Dynamical Systems and Geometry
First HANDSDays Workshop
29th June 2018
University of Hamburg, Department of Mathematics
The goal of the workshop is to enhance connections, collaborations and exchange of ideas within the Dynamical Systems & Ergodic Theory community in Northern Germany. The one-day workshop will be a recurring event, taking place twice a year. For more information, visit the conference website.
---
---
Conference on Thermodynamic Formalism
10th - 12th July 2017
We are hosting a 3-day conference "Thermodynamic formalism - Applications to geometry and number theory" in memory of Prof. Dr. B. O. Stratmann (1957-2015).
Invited speakers are K. Baranski, K. Dajani, K. Falk, J. Fraser, C. Kraaikamp, M. Lapidus, D. Meyer, E. Mihailescu, J. Parker, S. Patterson, A. Pohl, M. Roy, J. Schmeling, M. Stadlbauer, S. Velani, S. Winter, M. Zähle, A. Zdunik.
For further information please visit the conference website.
---
Book Publication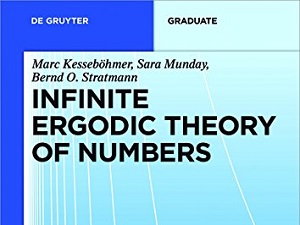 Keßeböhmer, Marc; Munday, Sara; Stratmann, Bernd.
Infinite Ergodic Theory of Numbers.
De Gruyter Textbook
, 191 pages.
ISBN:
978-3-11-043942-7
.